Earlier this month, the Central Bank of Nigeria (CBN) introduced a new cash withdrawal policy. The goal of this policy, which is a follow-up to the CBN's introduction of new naira notes, is to promote adherence to the CBN's cashless policy.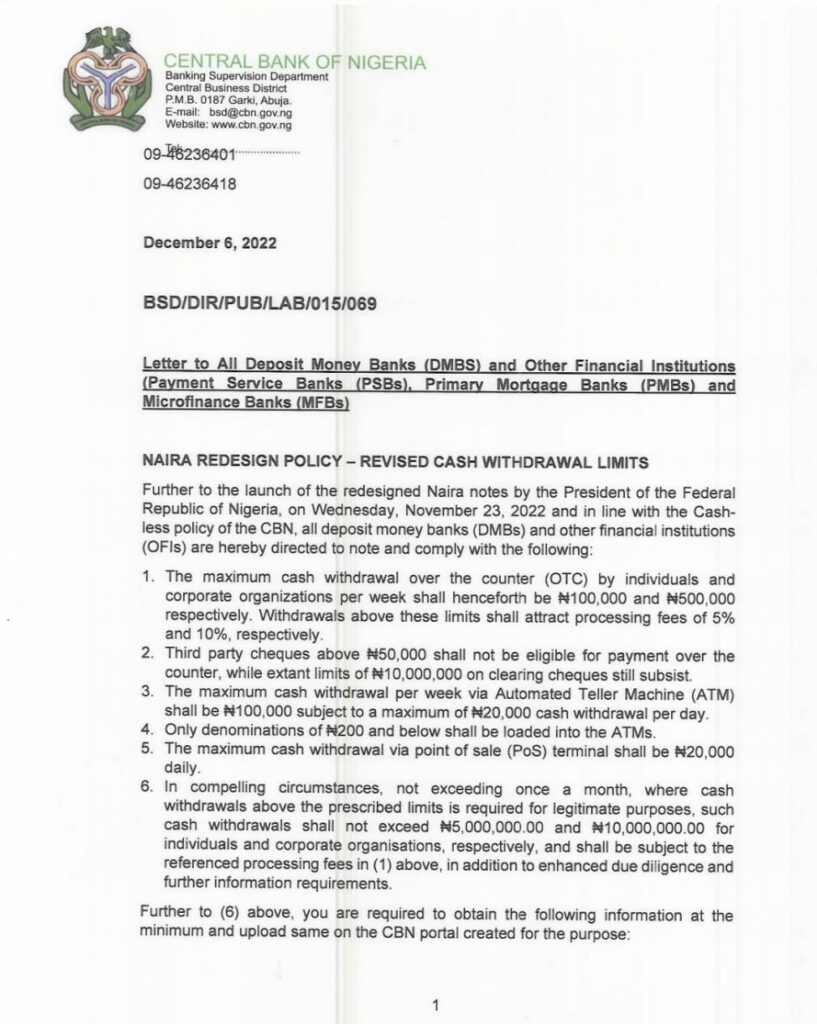 In this article, we break down this policy in simple terms and explain what it means for your business.
Let's review the policy's clauses with explanations.
Policy 1- "The maximum cash withdrawal over the counter (OTC) by individuals and corporate organizations per week shall henceforth be N100,000 and 500,000 respectively. Withdrawals above these limits shall attract processing fees of 5% and 10%, respectively."
Its impact -This means that the maximum withdrawals you can make in person at the bank are N100,000 for an individual and N500,000 for a corporate entity. There will be a processing fee of 5% for individuals and 10% for corporate organisations if you need to go over that.
Policy 2 – "Third-party cheques above 50,000 shall not be eligible for payment over the counter, while extant limits of N10,000,000 on clearing cheques still subsist."
Its impact – This means that if a customer writes you a cheque and you go to cash it, you can only get N50,000 or less in cash. You won't be able to pick up cash for amounts over N50,000; instead, they will be deposited into your account.
The CBN also emphasised that N10,000,000 is still the maximum amount that can be written on cheques.
Policy 3- "The maximum cash withdrawal per week via Automated Teller Machine (ATM) shall be N100,000 subject to a maximum of N20,000 cash withdrawal per day."
Its impact- You can only withdraw a maximum of N20,000 per day, with a weekly cap of N100,000.
Policy 4- "Only denominations of N200 and below shall be loaded into the ATMs."
Its impact – Because that is the only denomination that will be loaded into ATMs, there will probably only be 200 naira notes available everywhere.
Policy 5- "The maximum cash withdrawal via point of sale (PoS) terminal shall be N20,000 daily."
Its impact – You are only permitted to withdraw N20,000 each day using a POS terminal.
Policy 6- "In compelling circumstances, not exceeding once a month, where cash withdrawals above the prescribed limits are required for legitimate purposes, such cash withdrawals shall not exceed N5,000,000.00 and N10,000,000.00 for individuals and corporate organisations, respectively, and shall be subject to the referenced processing fees in (1) above, in addition to enhanced due diligence and further information requirements."
Further to (6) above, you are required to obtain the following information at the minimum and upload the same on the CBN portal created for the purpose:
Valid means of identification of the payee (National ID, International Passport, Driver's License).
Bank Verification Number (BVN) of the payee.
Notarized customer declaration of the purpose of the cash withdrawal.
Senior management approval for the withdrawal by the Managing Director of the drawee, where applicable.
Approval in writing by the MD/CEO of the bank authorising the withdrawal."
Its impact – This means that when an individual or corporate entity needs money above the specified limits of N100,000 and N500,000, they are permitted to withdraw up to N5,000,000 for individuals and N10,000,000 for organisations. However, processing fees of 5% for private individuals and 10% for corporate organisations will apply to this withdrawal. It can also be done only once a month.
It will also require some documentation and approvals- a valid means of identification, BVN, a notarized declaration for why you need to withdraw the amount, senior management approval, and approval in writing by the MD/CEO.
The above regulatory directives take effect nationwide from January 9, 2023.
What does this mean for you and your business?
The obvious conclusion is that for the CBN, cash must gradually phase out. They are committed to making sure that Nigerians avoid using cash as much as possible. Here are some steps you can take to prepare both your business and yourself for this transition.
Provide more options for payment
It's time for you as a business owner to make investments in additional methods for your customers to pay for goods and services other than cash.
Purchasing a POS terminal for your business will allow you to accept card payments without the hassle of carrying cash around. Dukka provides a dependable POS terminal that makes it simple for you to accept card payments.
Educate your customers
It's time to inform your customers about this policy if they primarily make purchases with cash. Encourage them to open bank accounts so they can use cards, USSD, and internet banking, among other payment methods.
…………………………………………………………………………………………………………………
About Dukka
Dukka is a leading bookkeeping and payments app. We provide solutions for bookkeeping, payments, cash flow management, and access to finance for small businesses in Africa. We are building an OS for commerce for African merchants.
To learn more about what Dukka is doing or to have a general chat, visit Dukka.com.